From WoodworkersZone WoodWiki
There is a growing trend among pen turners to step beyond the kits available from distributors, into the realm of kitless or heavily modified pens. An important contributing factor that allows us to modify the Cigar kit is that its tubes are a slip fit into the single tube for the Sierra (Woodcraft's Wall Street II). The kits are all available from Berea and that company's vendors. There are tutorials elsewhere that address the solid body pen, but my purpose here is to take the single-body conversion one step further and make the Cigar into a click pen.
If you'd like to accomplish this, you'll need these parts:
Shown are the Cigar Nib, the Nib Coupler, refill spring, assembled tubes, and the Sierra Click mechanism. This is an expensive pen to make, so you're going to want it to last, whether you keep it or sell it. I interpret this to mean you shouldn't try to save money on the parts, and I've found that Beartooth Woods has the greatest variety of matching platings for these kits...this set happens to be Black Enamel.
Tube length is critical, otherwise the click mechanism won't function properly. To help ensure the correct length, I made this jig:
The bushing is located to provide adequate support for the Sierra tube, and allow the Cigar tube to be inserted to the correct depth. The arrow in the next picture shows the point where the two tubes are joined. I mark the Cigar tube, then remove it from the upper tube, apply a couple of drops of thick CA glue at the mark, re-insert the lower tube and give it a half-turn to spread the glue fairly evenly around the barrel. This is the completed barrel assembly:
The body of this pen is going to be segmented Rosewood and Corian. It is shown here alongside the barrel assembly: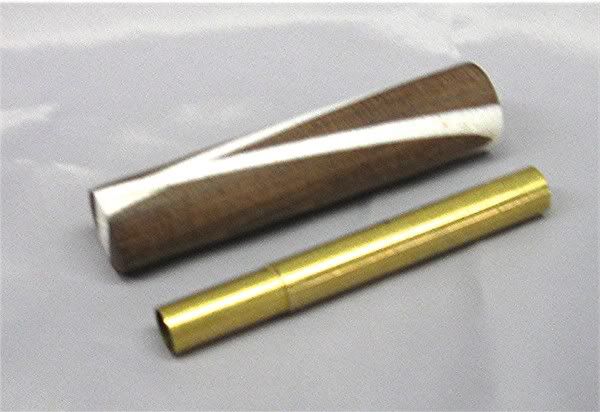 This article is a work in progress.